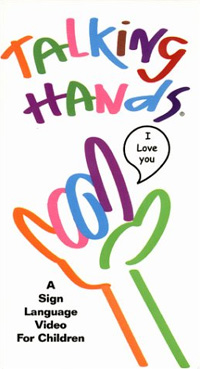 Talking Hands comes from Small-Fry Productions, part of the same award-winning "family" of producers of innovative, educational videos for infants and young children as Brainy Baby and Bilingual Baby. Thus, it's no surprise that Talking Hands is a high quality product.

Various multi-racial presenters demonstrate the sign language signs and say the corresponding English word, from cute kids to deaf adults. The focus is on the signs, not the personalities of the demonstrators, although in the case of the kids, that personality bursts through. The repetition of the signs is interspersed with high-quality video footage of the vocabulary's objects and situations, including footage of children with special disabilities. In this way the video presents quite a lot of vocabulary in a clear way that holds the attention of young children.

In the background there is pleasant, happy, classical music, and a pleasing, never-intruding female voice repeating the words or briefly explaining the situations shown – professional strategies for helping small children to make deeper sense of the world around them and how to use language in that world. In fact, even if you are not the slightest bit interested in sign language for your children, this video is a good resource of careful demonstration of verbal language, particularly of nouns and different verb tenses. Teachers must have been consulted for this video. At the end there is a "review" section where the video asks you "What is the sign for...?"

This engaging video looks carefully researched and professionally executed, and is available in video cassette and DVD.