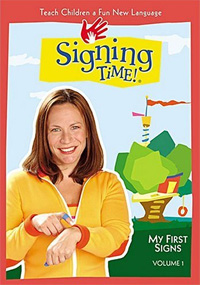 This is a set of fun, musical videos that are very effective in teaching kids sign language vocabulary. They are the creation of a passionate, musical mother, Rachel de Azevedo Coleman, and her family, who are on a mission to show sign language to the rest of the world, so that we can all communicate with Rachel's deaf daughter Leah and other children who don't communicate verbally. A very active, growing fan club community has sprung up around Signing Time.

Each video shows Rachel doing the signs correctly, shows Leah and her cousin Alex doing the signs, and has lots of footage of all sorts of babies and kids of different backgrounds and abilities, doing the signs more or less correctly, or in the case of the babies, incorrectly. Leah's younger sister Lucy, who was a premature spina bifida baby and has cerebral palsy, and some of her friends, also appear in these videos. These videos feature loads of up-beat, original songs by Rachel, which can be bought separately on CD. Some of these bright, positive songs are actually quite profound and moving, obviously expressing the experiences of Rachel's family. Listen careful to the words and beautiful tears may come to your eyes.

Each video of the 13 volumes (and counting! plans are to produce another set of 13 volumes for national television) of Signing Time can be watched separately, without watching the others. Each video introduces a separate set of useful vocabulary. The 2 volumes of Baby Signing Time reintroduce some of the same vocabulary as Signing Time – that vocabulary most useful for communicating with babies. Volume 5 is a fun video dedicated to teaching the sign language alphabet, and has the side effect of effectively teaching very young children to recognize the written English alphabet. In addition to the "official" vocabulary of each volume, on subsequent viewings you can start to pick up extra vocabulary as the songs are signed by Rachel. The color scheme of subsequent volumes are more cheerful, lighter and colorful than for the original first 3 volumes. However, all volumes are a treat for kids to watch. Obviously the creation of mothers, the DVD versions, after a short pause, automatically start playing from the beginning of the video when the DVD is first put into the DVD player and when the DVD reaches the end. This saves you, the adult, from having to start and restart the DVD when your children clamour for more Signing Time.

With the fun, educational Signing Time series, this professionally musical family probably will end up reaching their goal of teaching the world to communicate in sign language!

Note: This review refers to Volumes 1 to 13.