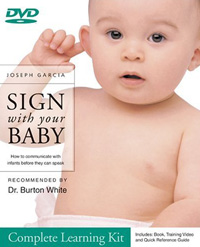 Joseph Garcia is one of the pioneers. As a sign language interpreter, he noticed the babies of deaf parents, younger than one-year-old, communicating in sign language at a level way in advance of what hearing babies can achieve in verbal language. Garcia was so fascinated by this that he carried out research in order to discover how such a wonderful gift of communication could be shared by hearing parents with their babies. In this video, the benefits of such communication and the system devised by Garcia are backed by the respected early childhood development expert Dr Burton White (author of "First Three Years of Life").

This video and book set concisely explain those benefits and history, and then effectively show hearing parents how to teach sign language to their babies in order to have meaningful communication exchanges at a very early age. The second half of the video is a slick, appealing presentation of sign language signs for babies. Garcia shows us the correct way to do the sign, and we see chuckling babies in everyday situations communicating using those signs. At the end of each sign, the freeze-frame slickly zips off into the distance, which would look interesting in marketing material but is minutely annoying in a video where you have to concentrate on sign language space. It doesn't seem to bother babies though.

The learning kit comes with a book that is expertly concise, taking only an hour to read all the necessary information. The first part of the video is wonderfully informative, and contains enough film of babies and parents as to keep babies interested in watching it with you. When learning baby sign language from videos, we and baby need to watch the video a few times. If you have the video rather than the DVD, you'll want to fast-forward over the informational first section on repeat viewings.

This expert video and book set will give you all the tools, motivation, background information and confidence you need to get started signing with your baby. You can purchase the learning kit that includes the book, a video or DVD, and a laminated quick reference guide sheet. Or you can purchase just the DVD or just the book.