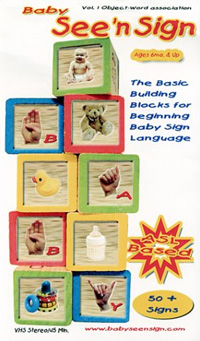 This is one of the first signing videos to be produced for hearing babies. It is the "labor of love" of the producer of educational videos, a mother of 4, whose family were frustrated for many years by the then lack of engaging, clear sign language instruction material for young children. Her family needed such products for communicating in sign language with her Down Syndrome sister.

Each sign is demonstrated by Johanna Larson-Muhr, a hearing sign language instructor whose first language is sign language because her parents were deaf. Soft music and engaging visuals of the vocabulary's objects and activities is repeated, along with repetition of Johanna's sign demonstrations. A very clear formula for teaching sign language vocabulary. It's the same formula that is used so effectively in the popular Baby Einstein videos, holding the attention of infants and young children. These videos have the side effect of introducing infants to those concepts and the English vocabulary for those objects and activities, just like the Baby Einstein videos, at the same time teaching small children sign language. This repetitive but concise formula also allows the video to get through a lot of vocabulary, perhaps more than other baby signing videos.

This "labor of love" is engaging and effective. There are now volumes 1 and 2. If you get the video version instead of the DVD, on repeat viewings you'll want to fast-forward over the informative verbal introduction given by Johanna.

Note: This review refers to Volume 1.